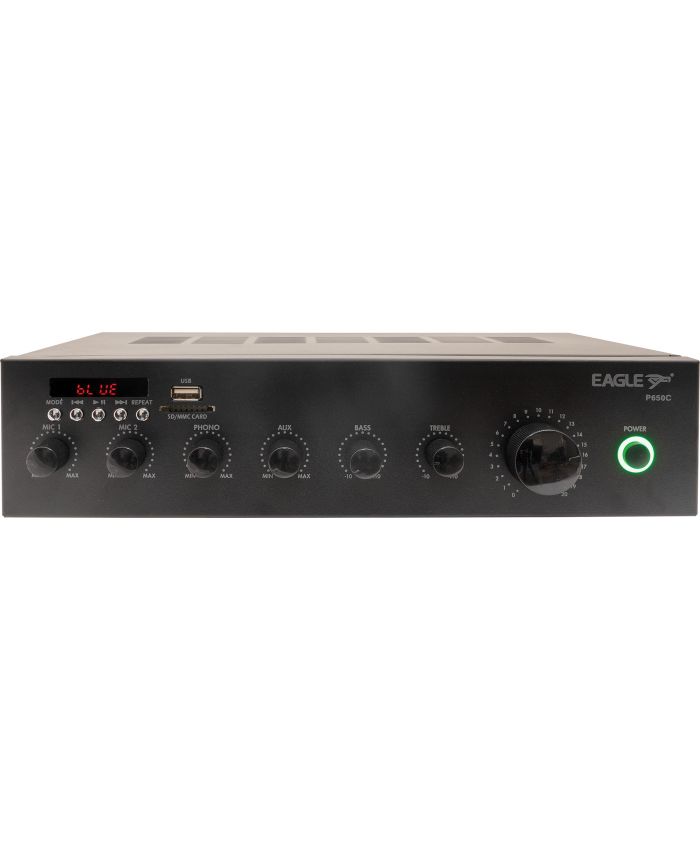 Eagle P650C
Quick Overview
Eagle 60W 100v/Low impedance Mixer Amplifier with USB/FM and Bluetooth

Eagle P650C
Eagle 60W 100V/Low impedance Mixer Amplifier with MP3 player with USB /SD card inputs, FM radio and Bluetooth. Ideal for small office or background music and announcements in small venues, cafe, shop hotel bar or a garage forecourt.
The amplifier has 2 two unbalanced microphone inputs with MIC 1 having switched priority control over all other inputs. Phono and Aux inputs are provided for background music with separate controls. Treble and Bass frequency controls and an overall master control.
This versatile amplifier has a 12-24 DC input for use with battery backup power sources or mobile use. Comes Supplied with a Wire antenna for FM radio use and an infrared remote control to control the USB/SD Bluetooth FM Radio section.
2 Band EQ (bass & treble)
Individual channel level controls
Master level control
Switched Microphone priority
Power and output level LED indicators
Microphone input: 6.35mm (¼"") Jack
Screw terminal speaker outputs (COM, 4-8R, 100V)
Short circuit, Overheat & overload protection
Fan Cooled
4 Ohm, 8 Ohm , 100v, and 70v output terminals
Net weight (kg): 6
Colour: Black
Impedance (Ohms): 4 & 8
Power RMS (W): 60