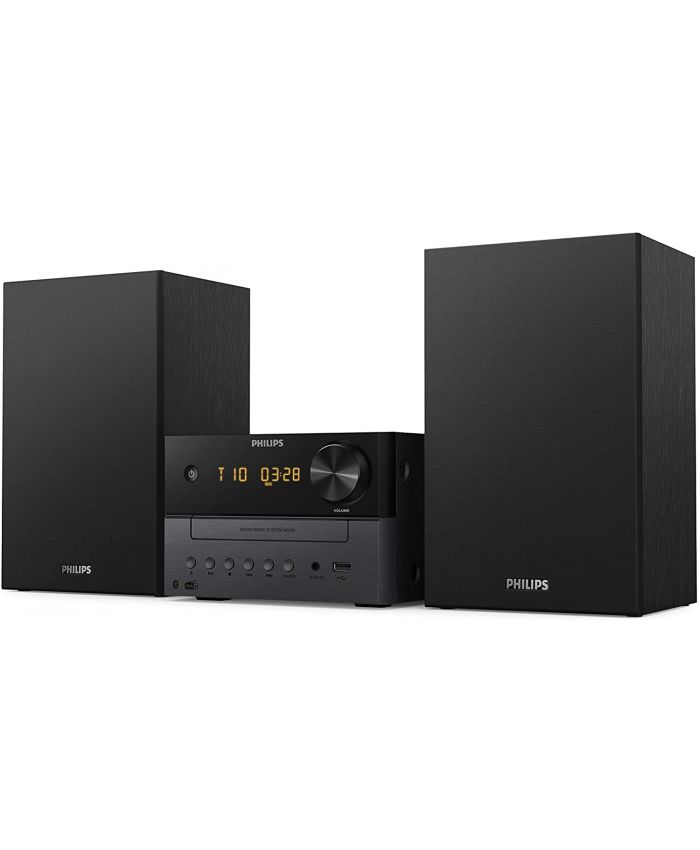 Philips M3505
Special Price €119.00
Regular Price: €139.00
Quick Overview
Philips Micro Music System

Philips M3505
Classic looks. All your music.
Step up your home listening with this classic-looking micro system. Easily stream music and podcasts, play CDs, and tune in to crystal-clear digital DAB+/FM radio. You can connect laptops or other sources via USB or audio-in.
All your music 
This stylish micro system lets you stream playlists, play CDs, and listen to DAB+ and FM radio. The digital radio tuner with 20 presets delivers crystalclear reception, and the CD player can read MP3 CDs and recorded CDs.
Bass-reflex loudspeakers 
Bookshelf-style loudspeakers give you clear sound and good bass from 3″ woofers and bass-reflex ports. An 18 W maximum output brings decent sound to smaller spaces. Perfect for a home office or bedroom.
Classic design 
The two-tone central unit and speaker cabinets recall the design of hi-fi separates. The textured volume-control dial adds a satisfying analog feel to operation. There are buttons on the front of the unit for playback and source selection.
Digital Sound Control 
Hip-hop or choral, symphony or rock opera? Whatever you love, this micro system's Digital Sound Control function lets you enjoy it more. Pick from preset sound styles designed to bring out the best in your music.
At home in your home 
This AC-powered micro system looks great in any room. Bluetooth wireless range is 10 m, and you can charge a smart device via the USB port. An easy-to use remote puts key functions at your fingertips.
Power 
Power supply: 100-240VAC, 50/60Hz
Sound enhancement: digital sound control 
Maximum output power (RMS): 18W 
Volume control: rotary 
Loudspeakers 
Speaker drivers: 3″ woofer 
Speaker types: bass reflex speaker system 
Number of sound channels: 2.0 
Audio playback 
Disc playback modes: fast forward/backward, next/ previous track search, repeat/shuffle/program 
Playback media: CD, CD-R/RW, MP3-CD, USB flash drive 
USB Direct playback modes: fast backward/fast forward, play/pause, previous/next, repeat, shuffle, stop 
Tuner/Reception/Transmission 
Tuner bands: FM mono, FM stereo, DAB/DAB+ 
Station presets: 10 (FM) + 10 (DAB) 
Antenna: Detachable pigtail (75 ohm) 
Tuner enhancement: auto digital tuning, auto scan, Easy set (plug & play) 
RDS: Radio Frequency, Program Service, Program Type, Radio Text, Clock Time 
Connectivity 
USB: USB host 
Audio in (3.5mm) 
Bluetooth profiles: A2DP, AVRCP, Multipoint (Multipair) support 
Bluetooth range: Line of sight, 10M or 30FT 
USB charging: 5V, 1A 
Convenience 
Alarms: CD Alarm, Radio Alarm, USB alarm, gentle wake 
No. of alarms: 1 
Clock: On main display, 24/12 hour display, sleep timer 
Display type: LED display 
Loader type: tray 
Dimensions 
Main Unit (W x H x D): 180x121x247 mm 
Speaker dimensions (WxDxH): 150x238x125 mm