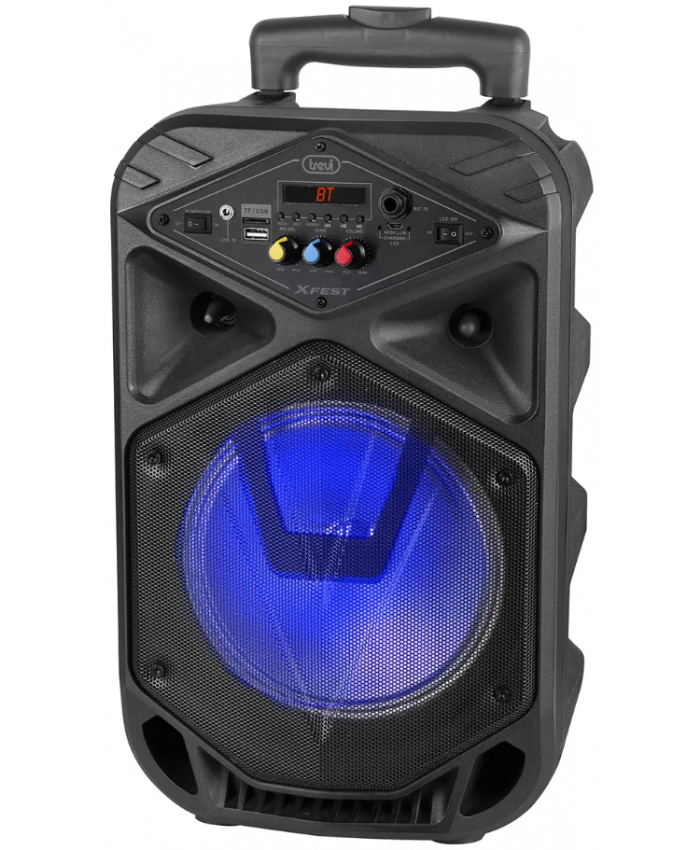 Trevi XF 350 - Karaoke - Black
Quick Overview
Trevi XF 350
The Trevi XF 350 Trolley Speaker is a portable speaker to listen to all your favorite music wherever you want. Simple to use, XF 350 is equipped with a pull-out trolley handle ideal for carrying it with comfort and ease.
The Trevi portable speaker has an integrated mp3 file player , USB inputs , MicroSD , AUX-IN and a microphone input  . You can connect XF 350 to your devices with Bluetooth connection and play the music you like most.
The Trevi powered speaker allows you to adjust the treble and bass, as well as the microphone volume. The functionFurthermore, Karaoke and the Discolight LED lights make it ideal for animating your parties. The power supply is provided by an internal rechargeable battery .
Total power 15W max
Integrated MP3 file player
Direct inputs for USB flash memory and Micro SD / AUX IN
One microphone inputs
Red LED display
Controls: Volume, MIC. Priority, Echo
Listen to music wirelessly from all Bluetooth® devices
Trolley with extendable handle
8 "illuminated Disco Light speaker
Dynamic microphone with standard cable supplied
Power supply: Battery pack Lithium rechargeable via micro-USB port 5V 1800mAh
Dimensions:
Length: 230 mm
Depth: 245 mm
Height: 415 mm
Weight: 3.5 Kg