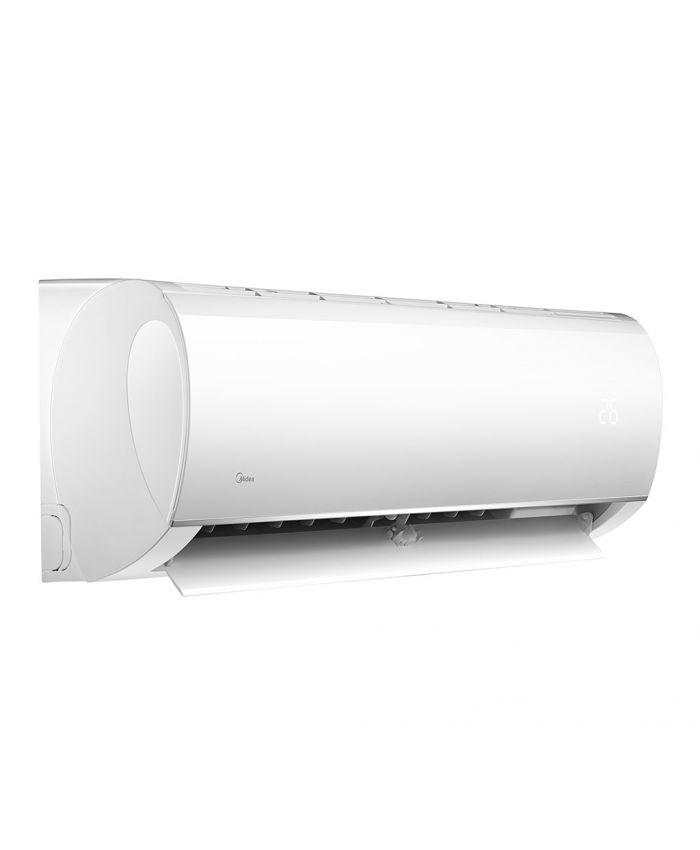 Midea RIGHT 12,000
Quick Overview
Midea RIGHT Series 12,000 BTU

Midea RIGHT 12,000
The design of the Right range is made up of pure and simple geometries. The lines that accompany the body, both on the front and on the sides, recall the waves of the ocean.
Product details:
Indoor unit code: MSMABU-12HRDN8
Outdoor unit code: MOX133-12HFN8
Energy efficiency:
SEER: 6.1
SCOP (Medium-hot season):  4.0-4.6
Energy Efficiency Class (cooling): A ++
Energy Efficiency Class (heating): A +++
Annual energy consumption cooling / heating kWh / A: 156/910
Performance:

Min-nom-max cooling capacity:  1.11-3.52-4.16 kW
Power absorbed in cooling min-nom-max: 130-1213-1580 W
Heating capacity min-nom-max: 1.08-3.81-4.22 kW
Power absorbed in heating min-nom-max:  120-1100-1580  W
Indoor unit  sound pressure (Min-Med-Max) (db (A)): 22-28-34-38
Sound power indoor unit max db (A); 53

Max external unit sound pressure (db (A)):  

56

Max

 external unit sound power  

(db (A)): 63
Features:
Power supply (V / Hz / Φ): 230/50/1
Liquid / Gas Line Refrigerant Piping: mm (inch) 6.35 / 9.52 (1/4 "/ 3/8")
Type of refrigerant: R32
Equivalent length of pipes (Max) M 25
Difference in height (Max) 10 m
Dimensions and weight: 
Indoor Unit (LxWxH): 805-205-285  mm ; 7.9 Kg
Outdoor Unit (LxWxH): 770-270-550 mm; 22.7 Kg
Midea smart kit (WiFi technology):
The indoor units of the Right series are equipped with the Midea smart kit.  The unit can be operated by the dedicated MIDEA AIR APP via a WLAN connection.
Product warranty:  All genuine residential Midea Air Conditioning Units sold in Malta are new, packaged and have a warranty of 5 Years from the date of purchase.